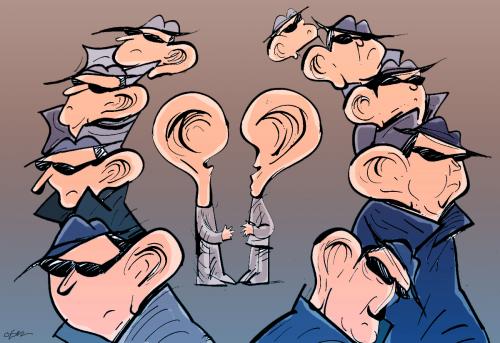 Photo Source
I do a lot of listening. It is a proven fact that most people like to talk. I could take the route of cynicism and say it is because they are self-centered. And while I do agree with this statement, I think I am going to veer away from the predictable negativity and look at this simple fact from a different perspective: my own. When I am given my chance to speak, it is freeing and relieving. It is my only real form of catharsis. Some people have found more active--often destructive--ways to relieve stress, however, I am not one of these people. So, I find someone who "has the time" to devote their attention to my sudden need for human contact and I speak. I try to be brief (often with fail), but I just release any feelings holding me down. I do not like to burden the people in my life and because I am a happy person, I try not to overbear anyone with this need. Like I said, I do like to speak, but I am first, and foremost, a listener. And the ability to converse with others is not just good for a few rants and complaints. Talking is a major way to build a relationship with someone. At least, all the "quacks" say so, and while I would, typically, try to steer clear of anything Dr. Phil or Dr. Drew promoted, I believe them to be right.
Last week, I was able to get my first interview with the faculty advisor for a club on campus. It was for my first story as a freelance reporter for my school's student paper. I was nervous until I walked into his office. We smiled and joked and he gave me a good bit of information to use. The whole conversation made me realize why I fell in love with journalism. I had forgotten one of the biggest reasons that journalism really felt like the place that I belonged: interviews--people's stories. In the short amount of time I have worked on school papers, the interviews have always been the biggest excitement for me. I am able to meet new, interesting people and hear their stories and feel their passion in the topics I am covering. It has always been an amazing rush for me. I had been doing so much listening in the past for friends and family, it had never occurred to me, until I started writing for a paper, how it had become a finely-tuned skill that I could use in more aspects in my life than just being a supportive shoulder for a friend. I still do a lot of listening, on the record and off the record, because no matter if I am being made to cover a story, or I am just getting to know someone, listening is what I do. And to be honest, people are more uncensored than they often realize when the other person is quiet and gives the speaker the chance to let their mind wander.
I am not entirely sure if I will always write for a newspaper--online or a physical publication--but my dream is to one day go somewhere amazing, meet some amazing people and record my experiences and the stories and lives I meet along the way. I will feel even more fulfilled if I can do all of that and photograph what I see. There are jobs for such a thing. I want to be moved by what I see and hear, and I want to move others through my recordings. I want to do so much. I just hope my short life will allow for such a dream to eventually come true.